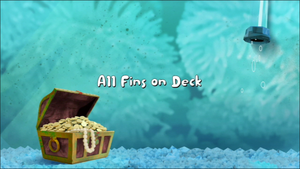 Bea and Oscar plan the cruise of a lifetime, but what starts out as a morning of merrymaking quickly turns into a swashbuckling adventure with Milo at the helm as he and his brigade of buccaneers set out to reclaim their ship from the Geckos and save their vacation
Read the full summary...
Gallery
To return to the "All Fins on Deck" episode summary, click here.
Ad blocker interference detected!
Wikia is a free-to-use site that makes money from advertising. We have a modified experience for viewers using ad blockers

Wikia is not accessible if you've made further modifications. Remove the custom ad blocker rule(s) and the page will load as expected.