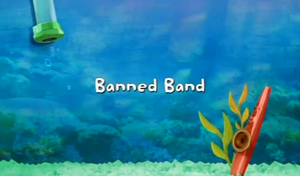 When Lonnie the marching band conductor bans all the students from playing music, Milo stands up for the gang and proudly plays his kazoo as loud as possible. Unfortunately, Lonnie doesn't take kindly to Milo's rebellion and challenges the gang to a battle of the bands – where the losing band will have to give up music forever.
Banned Band
To return to the "Banned Band" episode summary, click here.
Ad blocker interference detected!
Wikia is a free-to-use site that makes money from advertising. We have a modified experience for viewers using ad blockers

Wikia is not accessible if you've made further modifications. Remove the custom ad blocker rule(s) and the page will load as expected.