Bea's Commercial
Season:
2
Production code:
201a
Broadcast number:
42
Written by:
Tim McKeon, Meghan McCarthy, Nick Confalone and Neil Dusedau
Directed by:
Bill Reiss and Carl Greenblatt
Broadcast Information
Disney Channel US Premiere:
November 4, 2011
International Debut:
TBA
When Bea has an audition that requires her to ride a scorpion, she is determined to get the role so she embellishes her scorpion riding qualifications and says she is an expert. However, when she actually tries to ride one, she discovers her declaration couldn't be farther from the truth.
Episode Summary
Songs
None
Gallery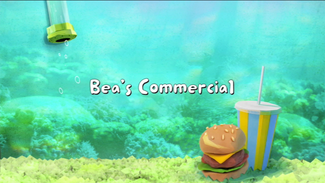 The image gallery for Bea's Commercial may be viewed here.
Running Gags
Bud's Pets &...
Memorable Quotes
Milo: I discovered glue! It's sticky!
Background Information
It was the first episode of Season 2.
Production Information
Continuity
Allusions
Cast
Ad blocker interference detected!
Wikia is a free-to-use site that makes money from advertising. We have a modified experience for viewers using ad blockers

Wikia is not accessible if you've made further modifications. Remove the custom ad blocker rule(s) and the page will load as expected.