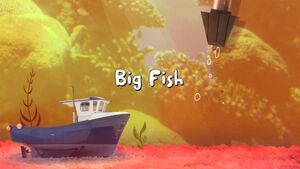 Milo joins Bea in her new exercise class and turns out to be the weakest fish there, so he gets help from Jumbo Shrimp to become bigger and stronger.
Read the full summary...
Getting ready for exercising
Doing yoga
The Lunch Room
The Big Tank!
Bigger and Bigger He Grows
Fixing It
To return to the "Big Fish" episode summary, click here.
Ad blocker interference detected!
Wikia is a free-to-use site that makes money from advertising. We have a modified experience for viewers using ad blockers

Wikia is not accessible if you've made further modifications. Remove the custom ad blocker rule(s) and the page will load as expected.