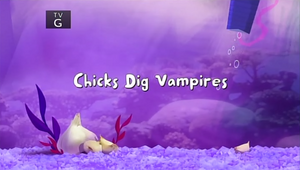 Albert has a crush on Esmargot and comes up with a plan to act and live like a vampire to win her affections. Unbeknownst to Albert however, Esmargot is a secret vampire slayer set out to rid the world of all vampires.
Read the full summary...
Gallery
To return to the "Chicks Dig Vampires" episode summary, click here.
Ad blocker interference detected!
Wikia is a free-to-use site that makes money from advertising. We have a modified experience for viewers using ad blockers

Wikia is not accessible if you've made further modifications. Remove the custom ad blocker rule(s) and the page will load as expected.