Diary of a Lost Fish/Gallery
Talk

0
503pages on
this wiki
After Bud brushes Mr. Baldwin's classroom, Randy Pincherson steals Bea's diary and blackmails her to getting it back when going to read it to the entire school, unless she dates him.
Big Tank!!!
This article or gallery needs more pictures. Please add more from iTunes screenshots or HQ/HD images from Disney Channel. or Disney XD
Once there is a sufficent number of pictures on the gallery, this can be removed.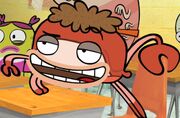 ==Diary of a Lost Fish==