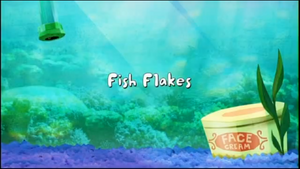 Milo begins to freak out when he realizes that his chances at becoming "Freshwater's Catch of the Month Calendar Cover Dude" are slim to none when his scales begin to fall off, so he tries to find a solution to his flaky problem and learns in the process that he's not the only one with body issues.
Read the full summary...
Gallery
End Credits
To return to the "Fish Flakes" episode summary, click here.
Ad blocker interference detected!
Wikia is a free-to-use site that makes money from advertising. We have a modified experience for viewers using ad blockers

Wikia is not accessible if you've made further modifications. Remove the custom ad blocker rule(s) and the page will load as expected.