Fish Hooks



The three main characters together.

Created by:
Noah Z. Jones
No. of episodes:     110
Run time:
22 min
Network:
Disney Channel
Starring:
Kyle Massey

First aired:
September 3, 2010 (Preview)
Last aired:
April 4, 2014
"The idea for the show came from some silly little fish drawings I sent to Disney. They really liked the design and we sort of came up with everything from there.''"
-Noah Z. Jones on how the series got started
Fish Hooks is an American animated television series created by Noah Z. Jones. Twenty-one episodes have been ordered for the first season. It has premiered on September 24, 2010. An 11-minute preview was shown on September 3, 2010, following the Disney Channel Original Movie, Camp Rock 2: The Final Jam. The 11-minute preveiw is on iTunes, added in September 10, 2010.
Plot
This inventive animated comedy series, set inside a giant fish tank in Bud's Pet Shop and Used Cameras, presents high school life as seen through the eyes of three BFFs (best fish friends), rosy-cheeked Milo, nervous Oscar, and dramatic Bea. Together they experience the typical life challenges and triumphs, including friendship, dating and sports, along with more typical situations such as giant lobster attacks and, with the use of special land suits, school field trips to the hamster cages. The series was created by children's book illustrator Noah Z. Jones and features a notable voice cast. It's produced using an innovative mixture of digital animation and photo collage.
Production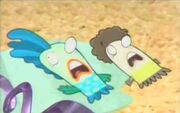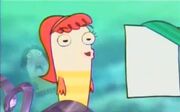 President of entertainment Gary Marsh said of the show, "The Fish Hooks team has created one of the most original, inventive animated series on television – bringing an ingenious twist to the classic archetypes of high school life." The series will be produced using a mix of 2D digital animation, CGI, and photo collages. The series is created and co-executive produced by children's book illustrator Noah Z. Jones and developed for television by Alex Hirsch and Bill Reiss.
The series started out when Noah Z. Jones was contacted by Disney executives after seeing some of Jones's work. Jones sent Disney 5 ideas for a short, and out of those ideas, Disney picked one that would eventually become Fish Hooks.[1]During early production stages, the short was known as Fish Tales but was changed to Fish Hooks most likely during the production of the short. It appears to be about Milo looking for a missing Oscar with Bea helping out. Chelsea Kane confirmed that she voiced Bea in the short. [2] The short hasn't been aired on television except for a few clips that were a part of a montage in Latin America.
Episodes
For a list of Fish Hooks episodes, see List of Fish Hooks episodes.
Cast
Main and recurring cast were announced in a Disney Channel press release on August 26, 2010.
Main cast
Recurring cast
Supporting cast
External links
References