Fish Prom
Season:
2
Production code:
221
Broadcast number:
Broadcast Information
Disney Channel US Premiere:
May 17, 2013
International Debut:
November 13, 2012 (Disney Channel Asia) [1]
"
This is supposed to the most important night of our lives! And I won't let your memories go down this way. You will NOT go without a dance, milady!... Because I will give you that dance.
"

— Oscar
It's prom time at Freshwater High and the gang is ready to make the most out of the big night, but when things don't work out how she expected, Bea finds herself dancing with an unlikely suitor.
Episode Summary
Everyone at Freshwater High is excited for prom. Bea had been asked to the prom by Steve Jackson, Oscar had managed to get Angela to go with him to prom and Randy had persuaded Milo to take his guinea pig date's sister to the prom.
At prom, Angela uses special head-gear to play a video game. Milo and Randy keep switching dates because Randy finds his boring. Steve Jackson goes to get Bea punch and then finds a spillage on the floor. He goes to get cleaning supplies but is locked inside of the cupboard.
Oscar gets tired of Angela not paying attention to him, so he shuts her game off and tries to persuade her to dance with him. During the process, he accidentally calls her 'Bea', and she leaves, before telling Bea that Oscar's all hers. Meanwhile, Bea was upset because she had spilled punch all over her dress.
Milo and his date are voted Prom King and Queen, much to Bea's dismay. Finberley announces that the slow dance is starting, but Bea doesn't have a date; neither does Oscar. Bea goes to the Hokey Poke in tears to drown her sorrows, and Oscar follows her. They comfort each other, before they dance together. Bea kisses Oscar on the cheek, making it his 'best prom ever'.
End Credits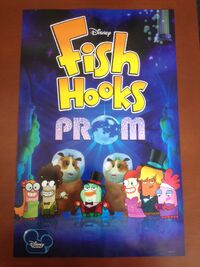 Snake and Mouse do not appear in the end credits, but they do while Oscar and Bea are dancing. Instead, Steve is still in the closet, until Clamantha pushes the chair cart out of the door's way, allowing Steve to get out, before Clamantha pushes him back in along with her.
Songs
Gallery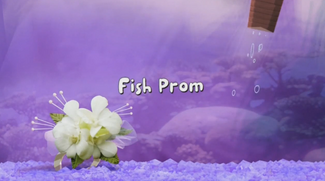 The image gallery for Fish Prom may be viewed here.
Running Gags
Bud's Pets &...
Background Information
This episode premiered on Disney Channel Asia (except Malaysia) on November 13, 2012. [2]
This episode premiered on Disney Channel Malaysia on December 8, 2012.
This episode premiered on Disney Channel USA on May 17th, 2013.[3]
This episode is the conclusion of the story arc centered around Oscar's relationship with Angela.
Production Information
Continuity
Errors
When the Girls sing, Esmargot has eye lashes and she doesnt have eyelashes
Allusions
Cast
References