Fish School Musical
Season:
1
Production code:
121
Broadcast number:
38
Broadcast Information
Disney Channel US Premiere:
September 23, 2011[1]
International Debut:
September 16, 2011 (Disney Channel UK)[2]
Bea is really excited for the school play, but when Jocktopus starts behaving badly, Bea gets angry. Milo's excited to perform his potato rap, and Oscar's busy placing everything on the set. Bea replaces Jocktopus with Oscar, but Mr. Mussels tells Bea about Jocktopus' father's dream.
Episode Summary
Songs
Gallery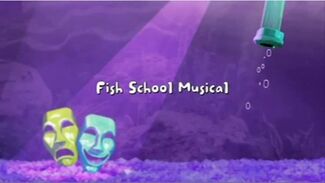 The image gallery for Fish School Musical may be viewed here.
Running Gags
Bud's Pets &...
Memorable Quotes
Bea
: "You'll do it for me, won't you Oscar?"
Bea puts her fin on his back for a moment, then Oscar raises his hands up with his fists in.

Oscar
: "Give me the suit! I'll do it right now!"
Example
: For multiple memorable quotes please use multiple dialogue boxes
Name: This is an example of a memorable quote.

If there needs to be an explanation explaining anything during this Line, use these sups.
Example: One lined memorable quotes also use the dialogue template.
Background Information
This is the first episode not to feature Snake and Mouse in the credits tag, instead, Mr. Baldwin is shown in the auditorium, sleeping.
Second speaking appearance of Ms. Lips.
This is the first episode aired in High Definition on Disney Channel United Kingdom & Ireland.
This episode is the second 21-minute long episode.
In the episode, the play is similar to the original Disney Film, "The Beauty and The Beast"
Albert is the only fish to not appear in "Dream Train"
Production Information
Continuity
Allusions
High School Musical: The title of "Fish School Musical" is similar to "High School Musical".
Some scenes in the musical are very similar to famous musicals, like Fiddler on the Roof, Beauty and the Beast, and Cats.
The musical the fish are putting on has mainly Beauty and the Beast elements.
The First Song (Potatoes) its a parody of Tradition, the opening song from Fiddler on the Roof. The character Svetlana, played by Bea, is also a nod to said musical.
Cast
References
Ad blocker interference detected!
Wikia is a free-to-use site that makes money from advertising. We have a modified experience for viewers using ad blockers

Wikia is not accessible if you've made further modifications. Remove the custom ad blocker rule(s) and the page will load as expected.