Freshwater High



Freshwater High submerged in the Fishtank

Location:
Bud's Pets
Freshwater High is a high school located in a fish tank, which is located in a pet store. Mr. Baldwin is the homeroom teacher, Coach Salmons is the P.E. teacher and health instructor, Mr. Mussels is the head of the drama department, Principal Stickler is of course the principal and Dr. Frog is the journalist/creative writing teacher.
Teachers

Others: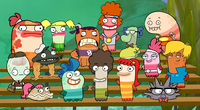 Appearances
Backround Information
The school has a French Class tought by Dr. Frog (Hairanoid')
The School has a Basketball and Football team called The Fish Hooks
It is revealed in Freshwater Lives, Freshwater used to be a state prison.
References
Ad blocker interference detected!
Wikia is a free-to-use site that makes money from advertising. We have a modified experience for viewers using ad blockers

Wikia is not accessible if you've made further modifications. Remove the custom ad blocker rule(s) and the page will load as expected.