Fuddy Duddy Study Buddy
Season:
2
Production code:
218a
Broadcast number:
Broadcast Information
Disney Channel US Premiere:
November 30, 2012
International Debut:
October 22, 2012 (Malaysia)
Oscar and Shellsea find themselves paired up for a science fair project and they disagree about everything. Meanwhile, Milo and Bea genetically modify an apple to make it even more amazing. When they get chased by the apple monster, Oscar calls and saves them.
Episode Summary
End Credits
Gallery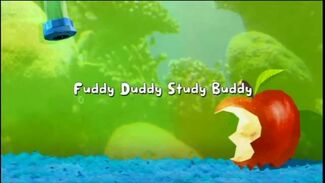 The image gallery for Fuddy Duddy Study Buddy may be viewed here.
Running Gags
Bud's Pets &...
Memorable Quotes
Shellsea: Oscar, You Feeling It? You Feel It Yet?
Background Information
Production Information
Errors
Continuity
Allusions
Cast
♦

designates a character that did not appear in this episode
References
Previously produced episode:


"Spiders Bite"
"Fuddy Duddy Study Buddy"

Next produced episode:


"Fish Flakes"

Previously aired episode:


"Get a Yob!"

Next aired episode:


"TBA"
Ad blocker interference detected!
Wikia is a free-to-use site that makes money from advertising. We have a modified experience for viewers using ad blockers

Wikia is not accessible if you've made further modifications. Remove the custom ad blocker rule(s) and the page will load as expected.