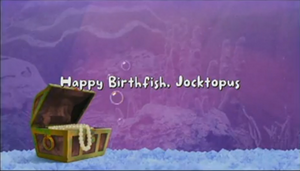 In order to avoid being the next victims of school bully Jocktopus, Oscar, Bea and Milo decide to give him a birthday present, but end up accidentally giving away Oscar. Jocktopus uses Oscar to make his bullying job easier, and sets his sights on Milo and Bea.
Read the full summary...
Big Tank!!!
This article or gallery needs more pictures. Please add more from iTunes screenshots or HQ/HD images from Disney Channel. or Disney XD
Once there is a sufficent number of pictures on the gallery, this can be removed.
Happy Birthfish, Jocktopus
To return to the "Happy Birthfish, Jocktopus" episode summary, click here.
Ad blocker interference detected!
Wikia is a free-to-use site that makes money from advertising. We have a modified experience for viewers using ad blockers

Wikia is not accessible if you've made further modifications. Remove the custom ad blocker rule(s) and the page will load as expected.