James Sardine



James Sardine in his red car

Species:
Sardine
Gender:
Male
James Sardine is a boy fish who Bea dated in Doris Flores Gorgeous. He is the Fish Hooks equivalent to James Dean.
Background Information
He appears to be the smallest fish in Freshwater High.
Appearances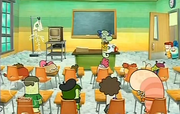 Ad blocker interference detected!
Wikia is a free-to-use site that makes money from advertising. We have a modified experience for viewers using ad blockers

Wikia is not accessible if you've made further modifications. Remove the custom ad blocker rule(s) and the page will load as expected.