Nicole
Gender:
Female
Age:
17
Hometown:
Freshwater High
Professional Information
Profession:
 
Student
Friends and Family
Parents:
Unknown
Spouse(s):
None
Nicole is a little girl with a blue eyes who likes Brandon Bubbler and Steve Jackson.
Background Information
She thinks that Oscar is cute and she wanted dance with him. 
She was going to ask Steve Jackson if wanted to be her partner at the prom but Bea pushed her.
Brandon Bubbler sang a song to her. 
She is one of the only fish with colored eyes.
Appearances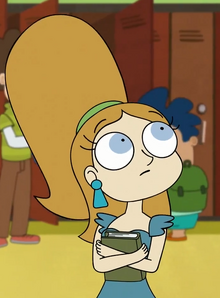 Ad blocker interference detected!
Wikia is a free-to-use site that makes money from advertising. We have a modified experience for viewers using ad blockers

Wikia is not accessible if you've made further modifications. Remove the custom ad blocker rule(s) and the page will load as expected.