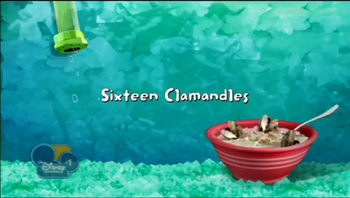 Bea feels like a thoughtless friend when she realizes its Clamantha's birthday and nobody remembered, so she plans a big last-minute surprise party at Clamantha's house. However, when Milo calls Bea and tells her it's not Clamantha's birthday after all, the gang scrambles to clean up since Clamantha is on her way home!
Read the full summary...
Gallery
To return to the "Sixteen Clamandles" episode summary, click here.
Ad blocker interference detected!
Wikia is a free-to-use site that makes money from advertising. We have a modified experience for viewers using ad blockers

Wikia is not accessible if you've made further modifications. Remove the custom ad blocker rule(s) and the page will load as expected.