Spiders Bite
Season:
2
Production code:
217b
Broadcast number:
Story by:
Nick Confalone, Neal Dusedau, Meghan McCarthy, Tim McKeon
Written & Storyboarded by:
Joe Johnston
Directed by:
C.H. Greenblatt & William Reiss
Broadcast Information
Disney Channel US Premiere:
September 14, 2012
International Debut:
TBA
Milo, Bea and Oscar and the gang are interrupted during game night by a rowdy group of spiders, led by Riff, that just moved in the wall behind their fish tank. While the gang tries their best to be neighborly, they finally reach their limit and decide to settle their turf war with the only way they know how, a drag race.
Episode Summary
End Credits
Snake and Mouse talk about animals that can't talk.
Songs
Gallery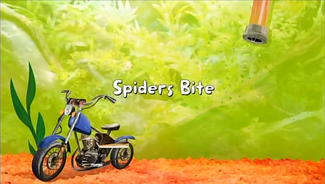 The image gallery for Spiders Bite may be viewed here.
Running Gags
Bud's Pets &...
Memorable Quotes
Example
: Please place the memorable quotes here
If there needs to be an explanation explaining anything during this Line, use these sups.

Name
: This is an example of a memorable quote.
Finberley : I think it's a butt.
Spiders turn around
Example: One lined memorable quotes also use the dialogue template.
Riff : I think your'e a butt!
Background Information
Production Information
Errors
Continuity
Allusions
When one of the spider's faces melts, it sounded like Mr. Kipling on the other Disney Channel show, Jessie.
When Milo, throws the shell, it is a reference to Mario Kart.
Cast
♦

designates a character that did not appear in this episode
References
Ad blocker interference detected!
Wikia is a free-to-use site that makes money from advertising. We have a modified experience for viewers using ad blockers

Wikia is not accessible if you've made further modifications. Remove the custom ad blocker rule(s) and the page will load as expected.